Before I start with a little story of my vacation, I just want to name the movie I quoted in my last post. It was "
My Blueberry Nights
", which was the first English movie of Wong Kar Wai. It's also Norah Jones' first debut as an actress and I think she did a marvelous job! Jude Law also as charming as he's always been. Besides the story, the cinematography is just beautiful. Very Wong Kar Wai. If you haven't seen it, I really recommend it for you. Anyway, some of you got it correctly. So, a big YAY for all of you who answered it right. A bigger YAY for anyone who have left comments on it. Love y'all!
Move on to the next topic, I just came back from a 5 days 4 nights vacation in Bali with my girlfriends. It was a great vacation since I had my best girlfriends with me and there's no better destination than Bali for this matter (last time I went to Bali was in 2003!). We picked this time around because our friend, a Balinese belle Ayufie, who lives in France came to her hometown for a short visit. We didn't want to waste this opportunity to meet and hang out with her.
Linda
and I flew to Bali from Jakarta, while
Ruth
a.k.a Tje2p has already been in Bali since about a month ago for work assignment. Also joined us for a couple of days, Ein, was our friend who resides in Bali.
We had the best time there. I'll share you some (appropriate) photos, while the unappropriate ones will be our own dirty little secrets :D
Before I show you the pictures of the vacation, here are some pictures of 'what i wore':
Fist set of pictures were taken in
Sanur beach
, where Ayufie had a traditional purification ceremony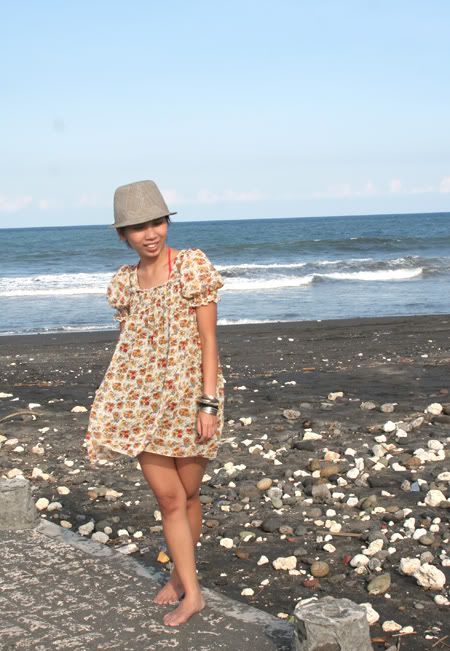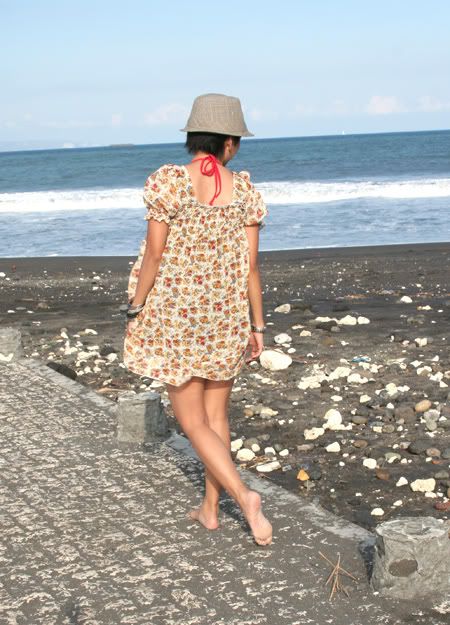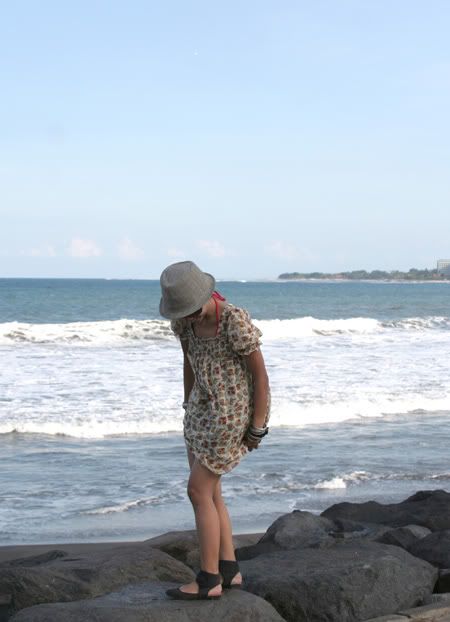 wearing: gaudi floral dress || h&m red bikini || zara hat
|| bcbg max azria sunnies || unbranded silver bangles || F21 black bracelet

These second set were taken in
Ubud
, a small village that is called international village and has very interesting agricultural system called
Subak
.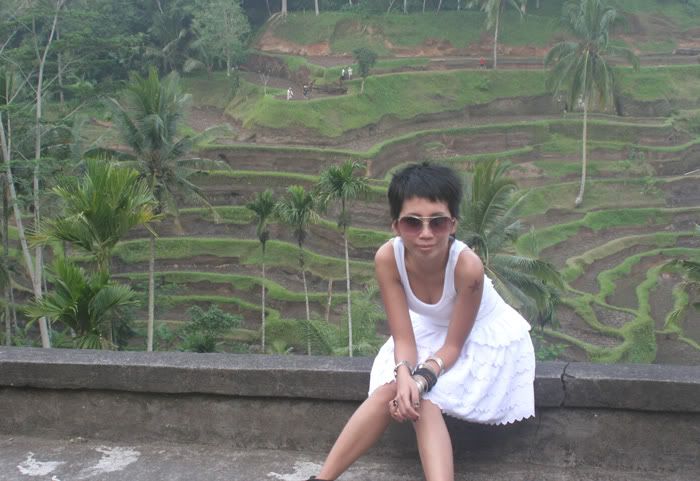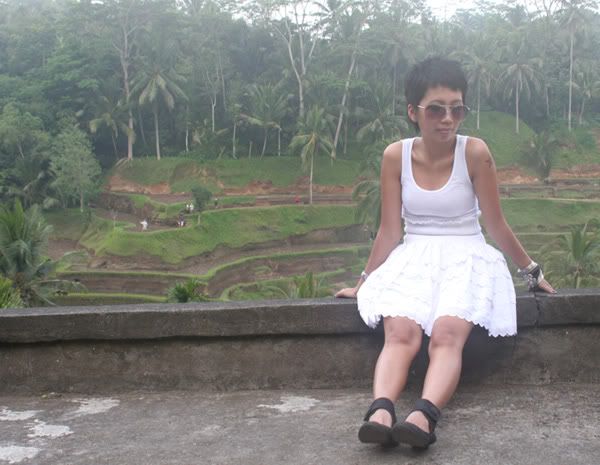 wearing: old navy white boybeater || unbranded white top worn as a skirt || shelly's london black shoes
|| F21 aviator sunnies || unbranded silver bangles || f21 black floral bracelet
Here are some photos I'd like to share with you:
Dinner on our first night in Bali at Warung Italia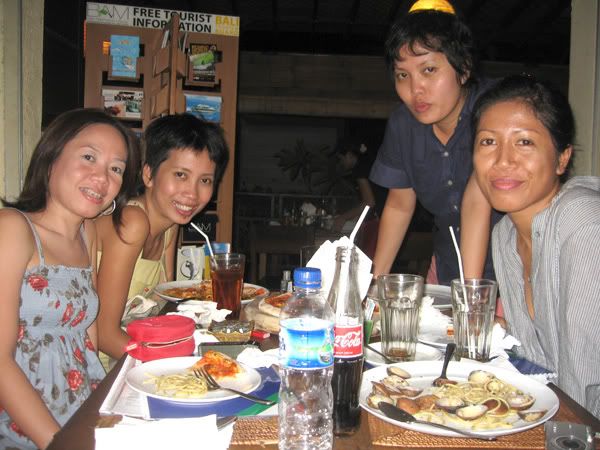 Lunch at Kadewatan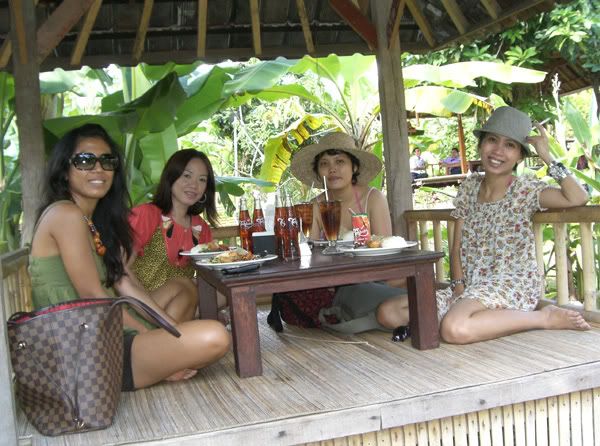 Tje2p, Ayu, Me and Linda at Sanur Beach
Sunbathing at our nice hotel's pool side
Ku De Ta
The white top is the same piece I worn as a skirt on previous pictures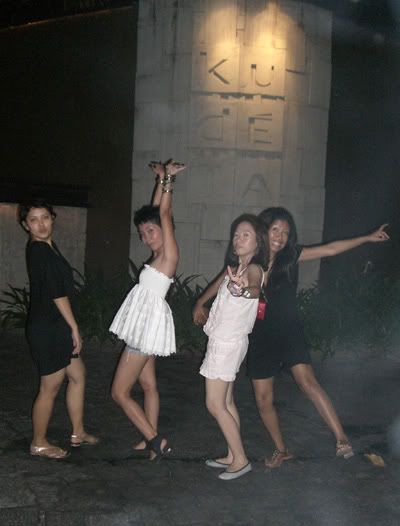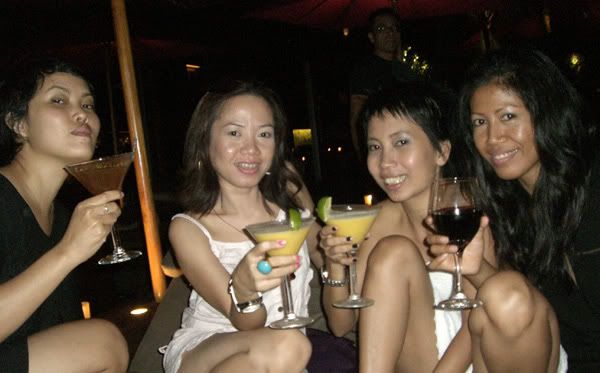 Lunch by the river at Murni's Warung in Ubud
On Friday night we went club hopping around Kuta. First stop was Center Stage, then to Kamasutra to Bacio to La Vida Loca. We called it the night at around 4 am on Saturday. Here is one of the pictures. The rest of the pics would not be for display :D
Waiting for sunset at Kuta Beach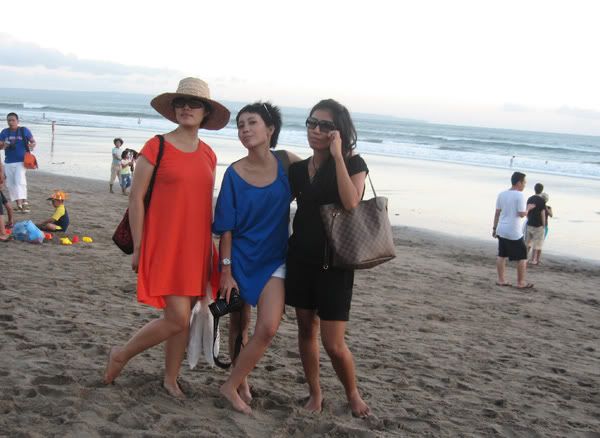 Me in action :P
Besides getting my pics taken, I also love taking picture. Here are some of the pictures I took. But unfortunately, once I transferred my photos to my computer, I noticed that there were spots on the photos. It's my lens, I should've checked it before using the lens. Dammit!