okay, this is really bad. these photos i am about to post here were taken at the jakarta fashion week 09 that took place few weeks ago. jakarta fashion bloggers have put up their photos at the day of or at least few days after the event, but i have to wait till now. sorry....
anyway, i got the chance to come to some shows. although i had the chance to come to all shows if i wanted to, thanks to fashionesedaily for providing me with tickets. but due to my rather busy schedule at that time, i could only attended 2 days of show (which consisted of several shows from different designers) and the closing party, which was really fun!
from some shows i attended, i took so much pride with the cleo runway show, which presented young talented local designers. their designs were really a breath of fresh air. unique, quirky and very well thought. a friend said that their designs were copying international household names (in fashion industry), but i should say that i didn't see it in that way. and if i may say, a design is a result of a thinking process, in which it involves elements of seeing, feeling and imagining. And don't forget, the market has a very big influence in the designs of many designers. for instance, since a season or two ago, many designers have used studs, excessive shoulder pads and fringes (and many other elements) in their designs. of course in different unique ways. does that mean they copy each other or they got the same exact inspiration at the same exact time?
but again, what do i know? i don't work in the fashion industry nor do i pay extensive attention to it. i may be wrong :D
the point is, here are the photos of what i wore at the closing party of jakarta fashion week *grin*: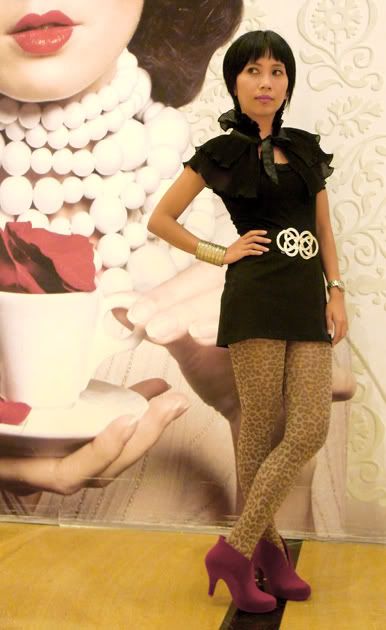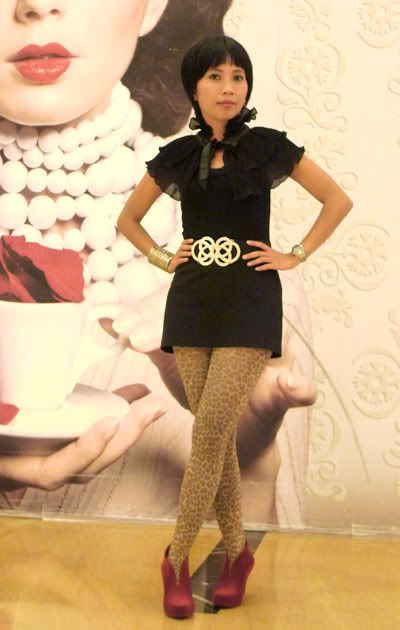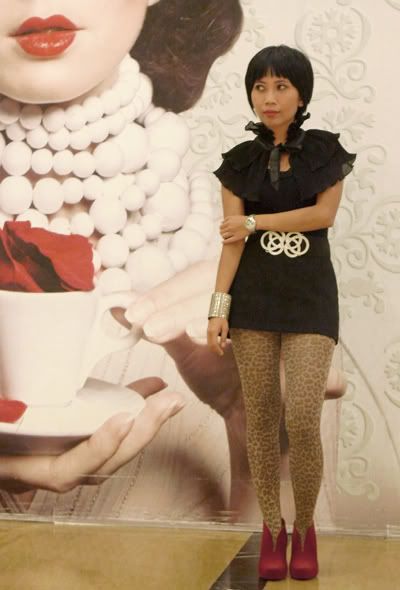 wearing: GAP black tanks || wetseal back mini skirt || h&m black cape || f21 belt || unbranded leopard tights || melissa red velvet booties || f21 bangle
p.s.: sorry for the bad quality photos.
by the way, i have now snatched a few pieces of clothing being showcased in cleo fashion show. and because they were of young designers, prices were very reasonable. woohooo!!!