It has been almost a month since I last updated my blog or visited your blogs. Last time I said that I was back to the blogsphere in full force , but turned out I wasn't. I plead guilty to that. I am a repeat offender, since it was not the first time I did this :).
Anyway, yesterday was the 6th year of my beloved father's passing. I thought that I would be at ease after several years. But I wasn't, although it's so much easier than the first three years after he died. I was basically in a constant grieve at that time. I kept looking for an answer if I have made him happy. Every single night I hope he would come to my dream and tell me the answer I was looking for. But for almost three year he never did. But just few days before the 1000th day commemoration of his death (people in Indonesia hold ceremony to send prayer for the dead on 7th day, 40th day, 100th day, 1000th day of the passing) he came to my dream. He didn't say anything, he just smiled. I cried in my dream, and real tear came down my cheek. I woke up soaking wet and cried like I never cry before. I don't believe in dream. I have chosen since a long time ago to believe what Sigmund Freud stated in The Interpretation of Dreams, that dreams were a reflection of human desires and were prompted by external stimuli. But that time I wanted to believe otherwise. I wanted to believe that it was real, not just a reflection of my desire. That he did come to me and talk to me.
For once, I beseech my own permission not to go with my intellectual process of thinking. For once, I wanted to allow myself to believe in my dreams and all the superstitious things that tag along. So I could end the long journey of finding the answer. And I felt content.
Now, although I've accepted the reality that he's not here with us anymore, but I still couldn't help but feeling of loss every time I think about him. I couldn't help but missing him. Yesterday, my two sisters posted childhood photos of us and him on their Facebook. And for the first time I could look at the pictures without feeling sad or grieve. I smiled. A big smile. I cherish the beautiful memories I had with him.
But then I saw my mom's status on her Facebook, how she misses my dad so bad. That really torn me apart....
By the way, my younger sister and I, always pay a visit to Pier 17 every year on the commemoration of my dad's passing and put flowers there and my sister would pray. Our father's body was cremated and his ashes were scattered on the sea. So we think it's only appropriate to visit an open water to remember him. Open water connects to each other, right? Today, we went to Pier 17. And I get the chance to have my sisters took some pictures of me.
Here they are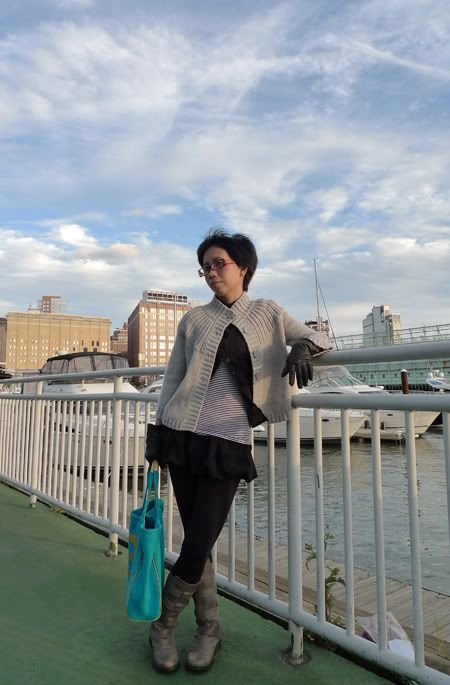 wearing: h&m striped shirt, black shirt, cardigan || F21 black balloon skirt || h&m black leather gloves || unbranded tights || aldo grey buckled boots || kate spade green canvas bag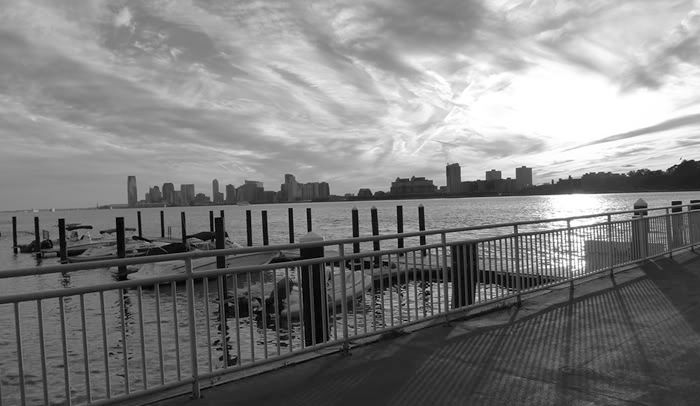 Dance With My Father - Luther Vandross
Back when I was a child
Before life removed all the innocence
My father would lift me high
And dance with my mother and me and then
Spend me around till I fell asleep
Then up the stairs he would carry me
And I knew for sure I was loved
Chorus:
If I could get another chance
Another walk, another dance with him
I'd play a song that would never ever end
How I'd love love love to dance with my father again
Verse 2:
When I and my mother would disagree
To get my way I would run from her to him
He'd make me laugh just to comfort me(yeah, yeah)
Then finally make me do just what my momma said
Later that night, when I was asleep
He left a dollar under my sheet
Never dreamed that he would be gone from me
Chorus:
If I could steal
One final glance
One final step
One final dance with him
I'd play a song that would never ever end
Cause I'd love love love to dance with my father again
Verse 3:
Sometimes I'd listen outside her door
I'd hear how my mother cried for him
(2x) I'd pray for her even more than me
I know I'm praying for much too much
But could you send back the only man she loved
I know you don't do it usually
But dear Lord she' s dying to dance with my father again
Every night I fall asleep
And this is all I ever dream